Trampolines For Backyards
Estimated reading time: 5 minutes
After a year of being at home more than ever, chances are you're growing a bit weary of the usual indoor activities and looking for something new to bring a little fun into your backyard. Have you thought about investing in a trampoline? Trampolines have come a long way over the years and can provide hours of entertainment for both kids and adults alike! Not only are they full of joy, but they can also improve agility, balance, and coordination skills while providing an excellent cardio workout. Read on to learn more about why having a trampoline in your backyard is one of the most exciting outdoor purchases you can make.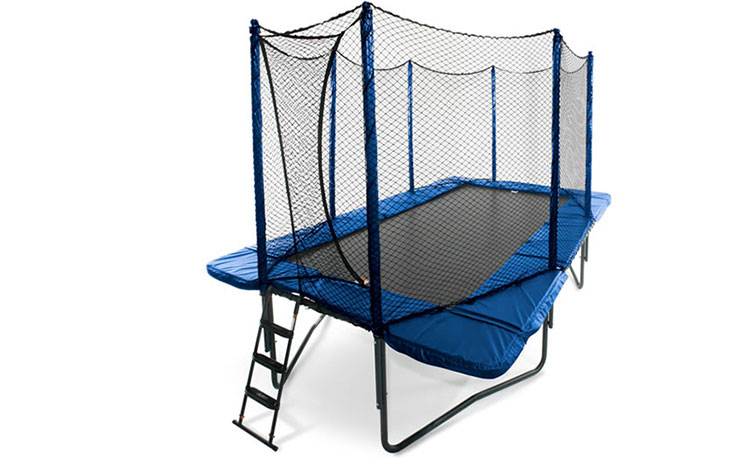 Evaluate your yard space to determine a safe and suitable size for your trampoline
When it comes to installing a trampoline in your yard, safety should always be the top priority. One of the key considerations you need to make is the size of your yard and whether it can accommodate a trampoline that is both fun and safe. To determine a suitable size, you need to measure the available space and factor in the height of the trampoline and the space required for a safety perimeter. This will ensure that there is enough room for your kids to jump and play without the risk of bouncing off the trampoline and onto the hard ground surrounding it. Remember, a well-placed and well-sized trampoline can be a great source of fun, exercise, and entertainment for the whole family.
Pick the right material for your trampoline – choose from steel, aluminum or polypropylene
When it comes to selecting the perfect trampoline for your backyard, one of the most important decisions you'll make is the choice of material. Steel, aluminum, and polypropylene are three popular options for the frame of the trampoline, but each material offers different advantages and disadvantages. Steel is the most common and affordable choice, providing durability and stability, while aluminum is a bit lighter and more weather-resistant. Polypropylene, on the other hand, is a synthetic plastic material that is highly resistant to UV rays, making it ideal for long-term outdoor use. No matter which material you choose, make sure to conduct thorough research and choose a trampoline with high-quality construction to ensure safety and longevity.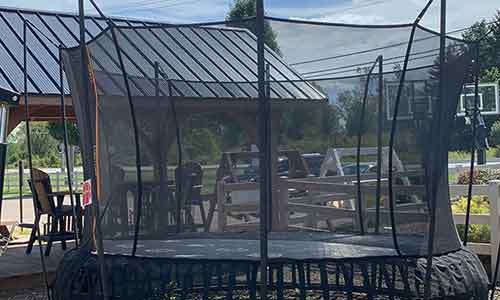 Pick the right size trampoline for your garden – compare sizes and shapes
Trampolines can be a great addition to any garden, providing fun and exercise for the whole family. But with so many sizes and shapes available, it can be overwhelming to decide which one is the right fit for your space. When it comes to size, it's important to consider not only the dimensions of your garden, but also how much space you want to dedicate to the trampoline. Smaller gardens may be better suited to a 6ft or 8ft round trampoline, while larger spaces can accommodate rectangular or oval shapes up to 16ft or 18ft in length. It's also important to consider the weight limit and number of users. Ultimately, choosing the right size trampoline for your garden can provide years of fun and enjoyment for the whole family.
Consider safety features such as padded edges, springs or nets
Safety should always be a top priority, especially when it comes to activities like jumping on a trampoline. That's why many trampolines now come equipped with safety features such as padded edges, springs or nets to ensure a safer experience for users. Padded edges help to prevent injuries from accidental falls or collisions with the trampoline's metal frame. Springs or nets can help to keep jumpers contained within the jumping area, preventing them from falling off or landing on hard ground. These safety features not only provide peace of mind for parents and guardians, they also make jumping on a trampoline a safer and more enjoyable experience for everyone involved.
Look into additional safety accessories such as helmets and gloves
When it comes to safety while enjoying outdoor activities, it's always better to be safe than sorry. One great way to ensure your safety is by investing in additional safety accessories such as helmets and gloves. These accessories not only protect you from physical harm, but they can also give you the confidence to push yourself to the next level. For example, a helmet protects your head from potential life-threatening injuries, which can allow you to take risks while biking or skateboarding. Gloves can also protect your hands from calluses and blisters while giving you a better grip on your equipment. With the right safety gear, you can focus on enjoying your favorite activities while staying as safe as possible. Trampolines for backyards are not too bad to setup!
Think about how you'll store it away when not in use – foldable designs are an option!
When it comes to purchasing new furniture, it's important to consider not just the aesthetics and functionality, but also the practicality of storage. Let's face it, not all of us have space to keep bulkier items out all year round. Fortunately, foldable designs are a wonderful option to explore. Not only do they save on space, but they're often lightweight and easy to move around too. From collapsible tables and chairs to sofas and bedding, there's an abundance of foldable designs available on the market. So, next time you're looking for furniture that's both stylish and practical, consider a foldable option that can be put away easily when not in use.
Concluding
Trampolines are an incredibly fun way to get active and enjoy the outdoors, but as with anything, it is important to take the necessary precautions when purchasing and setting up a trampoline. With the right knowledge and preparation, you can be sure to create a safe and enjoyable trampoline experience for everyone in your household. Evaluate your yard space carefully, choose a material that's appropriate for your needs, consider safety features such as springs, nets or padding for extra protection, and think about how you will store it away when not in use. With these steps taken into consideration, you can be sure to have healthy fun outdoors in no time! Trampolines for backyards are always useful!