Kids Playgrounds For Sale
If you find your facility or business looking for commercial playgrounds, we have a full stack of professionals dedicated to building professional playgrounds built to last, and built for safety. Our team will point you in the right direction of your investment and make sure you get quality and long lasting solutions. We also can come out to your location, deliver and install our playgrounds. We also build massive backyard playgrounds if you find enough room on your property.
Our commercial playgrounds are built for absolute fun, but also built for longevity for any facility. The facilitation of assembly, and installation puts your playground as the standout playground wherever you are. We have helped many schools, churches, parks, and more facilities in the Midwest and have always been excited about the turnout. We are proud of the quality put into these manufactured commercial playgrounds and aim to satisfy every customer.
Latest Offers & Playground Recommendations
At Kids World Play Systems our products are made entirely of superior materials. Our materials are made with the best wood, and our commercial playsets are made with the best materials that meets standards of safety and fun. Almost all our items come assembled using only highest quality galvanized, stainless steel or plated hard.
You'd never imagine buying a commercial playground or backyard playground would be this easy. Our dedicated team aims to cease the moment in proving that this process is fun, and also simple. The process that our team follows is careful, thought out, and provided with years of research and simply being on the job to provide quality service and outdooor commerial playgrounds.
With such an incredibly large selection of commercial playground equipment available for sale these days, there is no reason why everyone shouldn't have their own bouncy castle in the backyard. It's cheaper than ever to purchase a commercial grade trampoline or even a combination swing set and sandbox kit that comes with everything needed except the sand and water. Commercial playgrounds come in a huge assortment of shapes and sizes to fit any yard or commercial space. We can help install commercial swing sets for your business.
  Playgrounds For Sale
We are a dedicated company of fun located right in the heart of Hartville, Ohio just outside of Cleveland and Akron. We have another location in Medina, Ohio and not only continue to help families and companies across the state. Our company has reached out of state and went as far as the entire American Midwest to  help. 
Our family at Kids World Play Systems was founded on the principles of integrity, hard work, safety, and quality in all services and products. From introduction to the finish of the installation, we aim to follow these principles right to that point. Our commercial playgrounds are made to last, but given to the high demand, we will need customers to schedule an appointment to discuss the next playground to be built.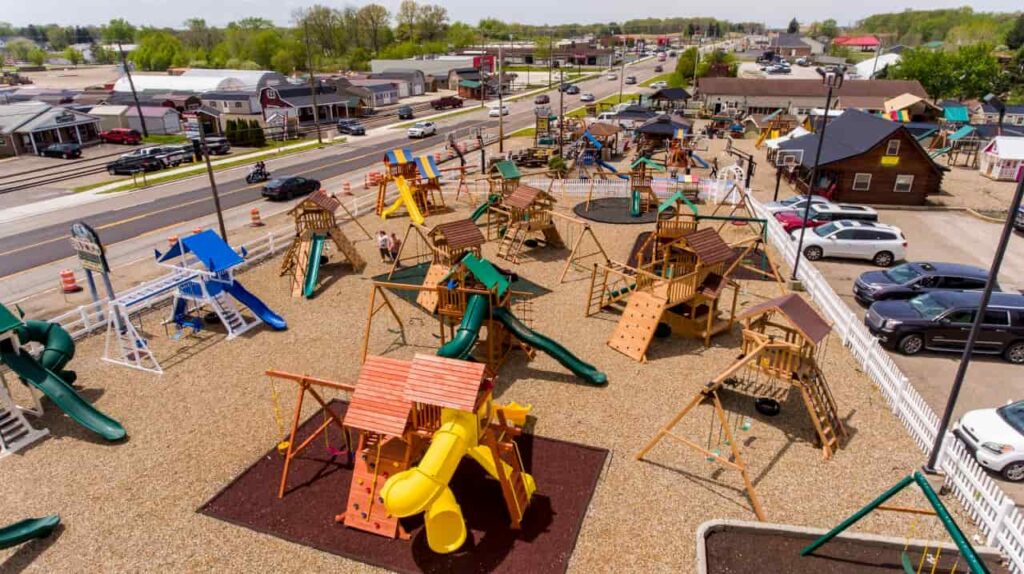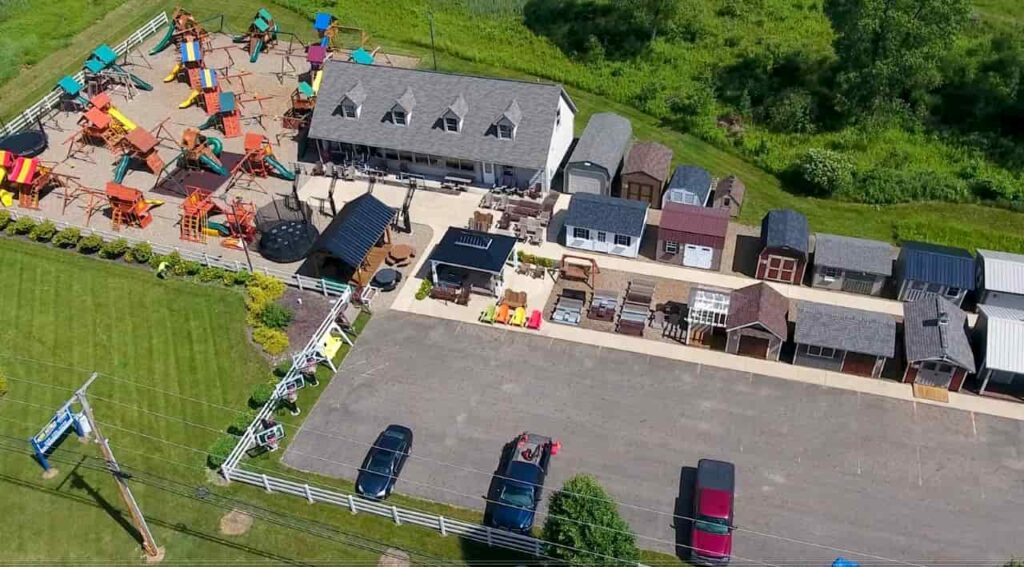 Our Products
Our playgrounds are built with professional materials built to withstand the elements.
Satisfaction Guaranteed!
If for any reason you are dissatisfied with a purchase you may exchange it for equal or greater value item within 10 days. Large items may such as playsets, storage buildings and gazebos, due to their custom nature, will be subject to a 15% restocking fee.
Payment & Delivery Information
Payment must be made in full at time of sale for items picked up. For items to be delivered we require a 30% deposit with the balance due on delivery and installation. We accept cash, checks, and major credit cards or debit cards. Also 0% interest financing available with approved credit. Professional delivery and installation are available in all products. See price list for charges.
School Playgrounds For Sale
If you are looking to get a school playground in Ohio or the Midwest, we have an absolute amazing offering on our playgrounds for sale. We can make sure that anyone who needs a playground for their backyard, church, school or establishment. Our team works hard to make sure you are getting the best quality purchase for your next playground for any kind of property.
Let's get this out of the way, we do sell very large swing sets that are considered playgrounds for backyards. It really depends on permits, property size, and other variables. If it fits the size of your yard and your needs, we are always happy to oblige, but please do make sure this is a can-do thing for your backyard. We know we can help, and are always glad to help with families who would prefer a residential playground set rather than a swing set. 
Kids World Play Systems prides in providing professionally built playsets for kids of all ages and facilities of all sizes including your own backyard for children to enjoy and socialize. Fun is our craft and our team prides in creating memorable spaces in your backyard and facility.
Playground Equipment Designed For Safety
Our playgrounds are designed to be safe for children and individuals of all ages. Safety is one of the most important parts of our company core values. It is an important pillar of our core values that we constantly talk about when we are talking to schools, churches, parks and more. We do not leave the site or at least have the playground ready for use until we know it is safe for use. 
With our kids play equipment, kids can get creative and adventurous while developing social skills and physical abilities. We offer a variety of different playsets for kids, so we're sure to have something that suits your unique child. Accidents happen, but our playground equipment and materials are built to minimize these events. Our safety surfacing applied to our playgrounds make sure that any unfortunate falls, the landing is absorbed so that it minimizes injury right away. 
For kids to be able to enjoy their new playset at its full potential, it's important that they will be safe while playing on them. That's why each kids playground is inspected before it leaves our warehouse.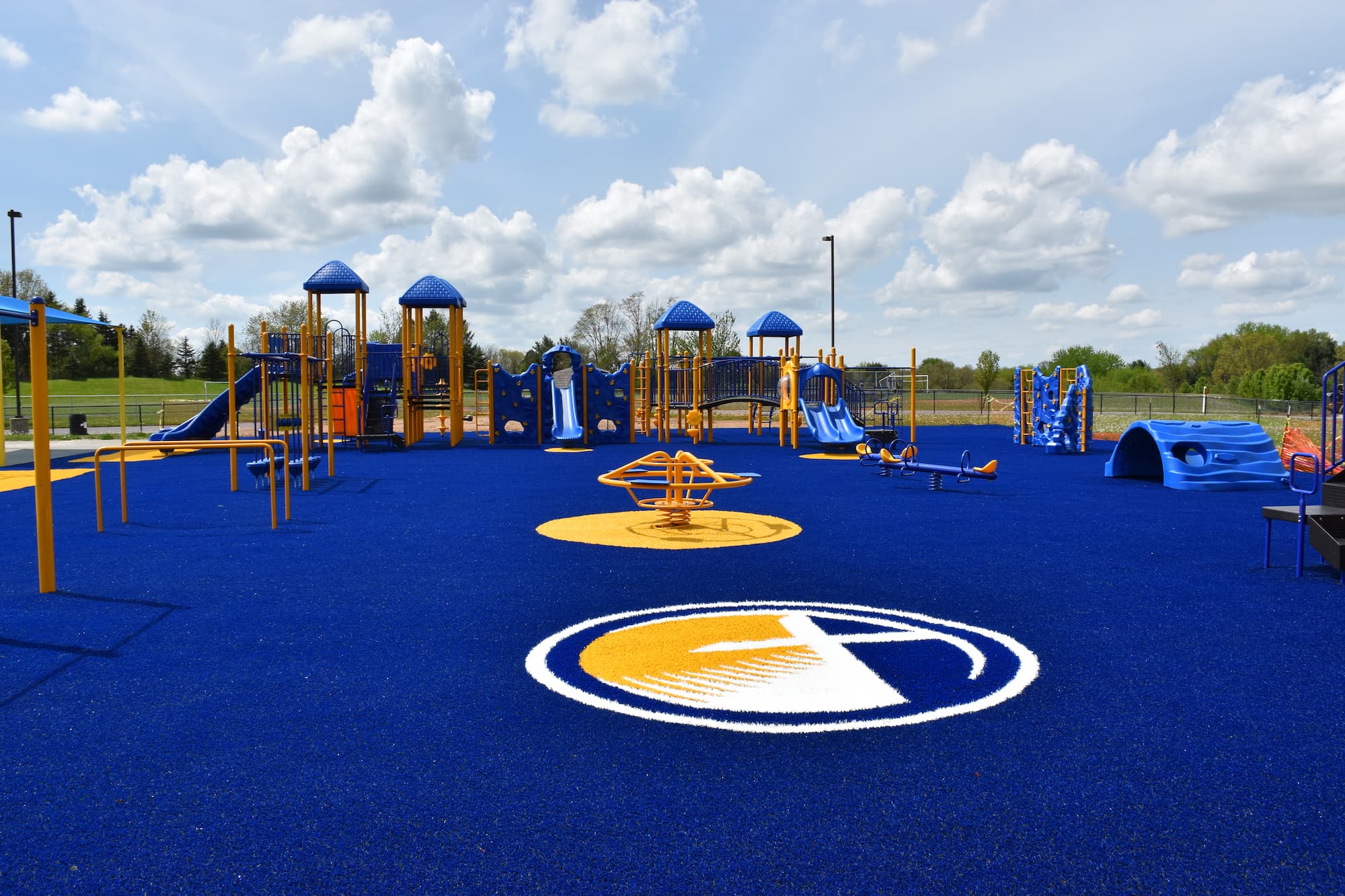 Playgrounds in Ohio
We not only serve Cleveland, Akron and Canton, we serve Ohio and are open to business in the entire American MIdwest! Stop at one of our locations today, or give us a call. We want customers to talk to our team first before making a sound decision about the commercial playground of choice is the right one for your property. Following this, we can help you out with delivery options and installation dates.  Kids World Play Systems is your choice for playgrounds in Ohio. Have questions? Talk to one of our representatives today to get help for your next playground or play set. 
Playgrounds can be a great asset to any school, park, church or even your backyard. However, they do require a lot of maintenance and upkeep. If you've outgrown your old playground or are looking for a change, now may be the time to consider selling your play space. Here is some helpful information on how to go about selling  your school's playground equipment.
We've got great offers that will save you money on what you need. You can try out our excellent products first by renting them before buying them at professional prices . We're here to assist your school or park every step of the way. Please call our experts now to find out how we can help you today! Looking for playgrounds for sale? Look no further than Playgrounds For Sale, we've got everything that you need and more! Our experts specialize in helping schools and parks find exactly what they're looking for. School playground equipment doesn't last forever but with our durable products you won't need them replaced anytime soon!