10'x17′ AlleyOop VariableBounce Includes Ladder
Benefits
Fun for all ages! Jumping is not just for kids; trampoline exercise is for the whole family.
One time investment for a lifetime of health: Great alternative to television and video games, right in your own backyard. Read more on 8 ways to get kids outside and active.
Builds Athleticism: JumpSport's trampoline games and trampoline accessories develop balance, spatial awareness, and stamina and encourage safer play activities.
Great training and conditioning for teens: Practice skiing, snow/wakeboarding or cheerleading with the BounceBoard trampoline accessory.
Protect your kids and their friends: Comprehensive studies show that 45 – 55% of all trampoline injuries result from fall-off accidents. JumpSport offers a variety of trampoline safety enclosures to suit your family's budget and needs.
Adults benefit from improved balance, spatial ability.
https://www.youtube.com/watch?v=bI-QgWRZ7EE&feature=youtu.be
When it comes to quality there is no close second to the new 10' x 17' rectangular trampoline from AlleyOop Sports®. It is without a doubt the most superior system in its class. Our patented VariableBounce™ technology is now coupled with our new high strength. 10" springs to offer you a bounce that is better than anything you've ever felt before. Expect a bounce that will consistently wow you with this trampoline with ladder. The supreme value does not stop at the trampoline. Our 7' safety enclosure is the strongest rectangular enclosure system known to the trampoline world This AlleyOop® enclosure sets the bar for literally everything you'd ever want from a safety enclosure system.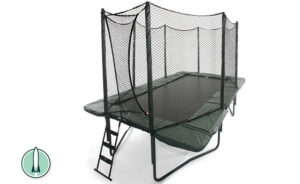 Trampoline With Ladder
Kids World Play Systems trampolines are made with quality materials We offer trampolines with ladders that really going to be wonderful for your yard. You may even have this be the place where all the kids love to go and have fun. With this trampoline it will meet your needs. If you're looking for a safe, fun trampoline with ladder in your very backyard then you have found the very best one!
Trampoline With Net and Ladder
These trampolines come with a net and ladder, making them perfect for little ones. Then you will be able to have them anywhere at home. Having this in your yard can look perfect and take up some space. So, if you have room to spare then this would be great. Also, there is little to no Maintenace when it comes to these.
Our Products
Our products are made entirely of superior materials, offering Natural Select, Redwood, Cedar, Poplar, and Poly Lumber. The result is a beautiful long lasting lumber built to last. Our lumber is milled to a smooth surface and edges are rounded to remove sharp corners. After that it is carefully sorted to almost eliminate unsightly knobs and irregular wood grain. Almost all of our items come assembled using only highest quality galvanized, stainless steel or plated hardware.
Satisfaction Guaranteed!
If for any reason you are dissatisfied with a purchase you may exchange it for equal or greater value item within 10 days. Large items may such as playsets, storage buildings and gazebos, due to their custom nature, will be subject to a 15% restocking fee.
Payment & Delivery Information
Payment must be made in full at time of sale for items picked up. For items to be delivered we require a 30% deposit with the balance due on delivery and installation. We accept cash, checks, and major credit cards or debit cards. Also 0% interest financing available with approved credit. Professional delivery and installation are available in all products. See price list for charges.
Visit Our Locations Today