14ft AlleyOop PowerDoubleBounce Includes Ladder
Benefits
Fun for all ages! Jumping is not just for kids; trampoline exercise is for the whole family.
One time investment for a lifetime of health: Great alternative to television and video games, right in your own backyard. Read more on 8 ways to get kids outside and active.
Builds Athleticism: JumpSport's trampoline games and trampoline accessories develop balance, spatial awareness and stamina and encourage safer play activities.
Great training and conditioning for teens: Practice skiing, snow/wake boarding or cheer leading with the BounceBoard trampoline accessory.
Protect your kids and their friends: Comprehensive studies show that 45 – 55% of all trampoline injuries result from fall-off accidents. JumpSport offers a variety of trampoline safety enclosures to suit your family's budget and needs.
Adults benefit from improved balance, spatial ability.
14ft. PowerDoubleBounce™ Trampoline System with Integrated AirShock™ Safety Technology! Our Revolutionary DoubleBounce™ trampoline sets the standard for backyard safety, quality, and fun. Our state-of-the-art PowerBounce technology is the first and only system that can be configured to improve both the bounce performance and the shock-absorption of the jumping surfaces. Although both of our DoubleBounce models can be tuned for different age, weight, and skill levels. Of course, our DoubleBounce PowerBounce offers nearly twice as many customizable options as our single-bed systems and when it comes to safety, nothing can compare to the Airshock Safety Zone created by our patented double-decker, two-bed system. The heart of the PowerBounce system is our patented TripleStage-DualSpring™ assembly such as the 14ft trampoline in stock. The upper, Primary Spring locks the PowerArm™ into the V-ring, while the lower, PowerSpring™ attaches to one of the PowerArm's three stages--the top, middle, or bottom setting. The PowerArm™ linkages work like levers as the PowerSprings stretch, and this significantly improves the bounce performance.  Combine all this with the added benefits of our DoubleBounce Safety Technology — and you have the finest backyard trampoline available.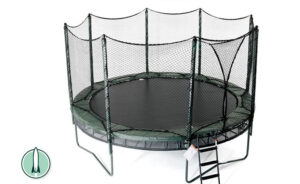 14ft Trampoline In Stock
Not only are our trampolines fun for kids of all ages but they are safe as well. Kids of all heights and sizes will be able to enjoy this unit so much and for such a long time.  With this safety net you will know that your child is safe while playing. Our 14ft trampoline is the perfect size for small yards or gardens and even larger families too. Then it is possible you may even have two different trampolines for twice the amount of fun! If you have any worries or questions, then please let us know!
Our Products
Our products are made entirely of superior materials, offering Natural Select, Redwood, Cedar, Poplar, and Poly Lumber. The result is a beautiful long lasting lumber built to last. Our lumber is milled to a smooth surface and edges are rounded to remove sharp corners. After that it is carefully sorted to almost eliminate unsightly knobs and irregular wood grain. Almost all of our items come assembled using only highest quality galvanized, stainless steel or plated hardware.
Satisfaction Guaranteed!
If for any reason you are dissatisfied with a purchase you may exchange it for equal or greater value item within 10 days. Large items may such as playsets, storage buildings and gazebos, due to their custom nature, will be subject to a 15% restocking fee.
Payment & Delivery Information
Payment must be made in full at time of sale for items picked up. For items to be delivered we require a 30% deposit with the balance due on delivery and installation. We accept cash, checks, and major credit cards or debit cards. Also 0% interest financing available with approved credit. Professional delivery and installation are available in all products. See price list for charges.
Visit Our Locations Today