60″ ProDunk Hercules™ Gold includes Rust Armor
When it comes to having the very best outdoor units in the business you may like to know that we are the experts. We are going to be able to guide you toward your desires. Then you can even ask us any questions you would like to.
Features Include High-performance backboard - Same material and thickness as top gymnasium boards. Over-sized 6" pole - A beefy one-piece 7 ga. square pole adds an incredible base of stability! Regulation overhang - The beefy 5' overhang allows for regulation play and keeps the pole out of play. Safe - Includes high-quality pole & gusset safety padding. Move to a new location - Unbolt the system and install it at a new location. Installation - Professional installers available.
Designed for harsh outdoor environments
- Rated for hurricane winds, extreme hot and cold temperatures.
Limited lifetime warranty
- Covers all basketball play including dunking and hanging.
Extras that come standard
- Basketball, pump, pole & gusset padding, shipping and expedite order processing. Popular add-ons available.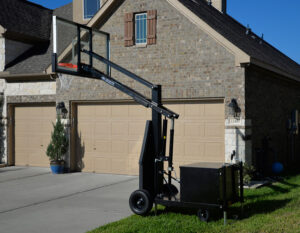 Produnk Hoops
Habving your very own produnk hoops can make you go from beginner to pro. Look no further than ProDunk Gold Basketball Hoops at Kids World Play Systems! These are really going to electrify how well you play on the court. Then you can even show off your talent or teach some other people your moves. ProDunk Gold Basketball Hoops are a outstanding product you won't be disappointed in.
Portable Basketball Hoops
Look no further than Kids World Play Systems when you need produnk hoops. These can really be outstanding for you to get your long need practice in. Then you can really learn how to shine and become truly excellent at this game. it will be plenty of fu for you and your family as well. So don't miss out on a truly amazing unit such as this very one.
Our Products
Our products are made entirely of superior materials, offering Natural Select, Redwood, Cedar, Poplar, and Poly Lumber. The result is a beautiful long lasting lumber built to last. Our lumber is milled to a smooth surface and edges are rounded to remove sharp corners. After that it is carefully sorted to almost eliminate unsightly knobs and irregular wood grain. Almost all of our items come assembled using only highest quality galvanized, stainless steel or plated hardware.
Satisfaction Guaranteed!
If for any reason you are dissatisfied with a purchase you may exchange it for equal or greater value item within 10 days. Large items may such as playsets, storage buildings and gazebos, due to their custom nature, will be subject to a 15% restocking fee.
Payment & Delivery Information
Payment must be made in full at time of sale for items picked up. For items to be delivered we require a 30% deposit with the balance due on delivery and installation. We accept cash, checks, and major credit cards or debit cards. Also 0% interest financing available with approved credit. Professional delivery and installation are available in all products. See price list for charges.
Visit Our Locations Today