The Imperial Springs play structure will keep children entertained for hours with its vast variety of entertaining objects. There are two styles of overhead climbers, a simple Overhead Single Parallel Ladder and a more complicated Curved Overhead Swinging Rung Ladder. Both offer alternative ways to access the upper levels of the structure, as well as fun and exercise. Other routes to climb to the top include an accessible Transfer Station, simple Vertical Ladder, and an extra-tall Inverted Arch Climber. But the excitement of all these ways up doesn't even compare to all the fun ways to get back down. There are a total of four slides, including a Double Slide and 7' tall Wave Slide, as well as a classic Fireman Pole. On the ground floor, there is even a drum, rain wheel, and ship's wheel built into the structure for additional outlets for kids to direct their imaginative and creative energies towards.   *Sorry for the inconvenience but some things are currently under construction on our site.  Call for installation and shipping costs on all commercial products*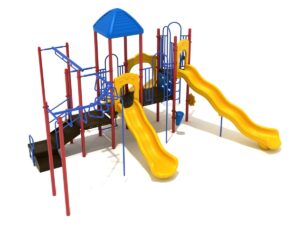 School Playground Equipment For Sale
Kids World Play Systems is the perfect place to find all of your commercial indoor playground equipment needs. We have a wide selection of equipment that is perfect for any age group, and we offer incredible prices on all of our products. Be sure to check out our clearance section for amazing deals on last-season's models!
Our commercial playground equipment is perfect for any setting, from schools and daycare centers to churches and rec centers. We have something for everyone, so be sure to browse our entire catalog today! You won't find better prices or a wider selection anywhere else. Looking for some amazing deals on commercial playground equipment? Look no further than Kids World Play Systems! We've got a huge selection of clearance items that are perfect for your indoor play space. From slides and climbers to swings and seesaws, we have everything you need to keep the kiddos entertained.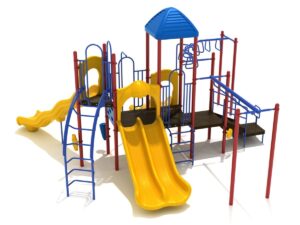 Commercial Playground Equipment On Sale
Kids World Play Systems offers top-quality commercial playground equipment at the best prices around. With a variety of exciting and entertaining options, kids will be entertained for hours on end. Our two overhead climbers, the Overhead Single Parallel Ladder and the Curved Overhead Swinging Rung Ladder, offer alternative ways to access the upper levels of the structure, as well as fun and exercise. Other routes to climb to the top include an accessible Transfer Station, simple Vertical Ladder, and an extra-tall Inverted Arch Climber. But the excitement of all these ways up doesn't even compare to all the fun ways to get back down! Our slides, including the Double Lane Spiral Slide and the Tube Slide, provide a thrilling descent back to the ground. And for the little ones, we have a Tot Castle with its own slide and several fun climbing objects. So come check out Kids World Play Systems today and let your kids experience the excitement of commercial playground equipment!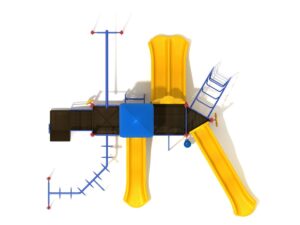 Best Activity Equipment 
Kids World Play Systems is the best place to find commercial playground equipment for your little ones. With a variety of different climbers, slides, and other fun attractions, your children will be entertained for hours on end! Our Curved Overhead Swinging Rung Ladder is a great option for older kids, while our simple Overhead Single Parallel Ladder is perfect for younger ones. And don't forget about our extra-tall Inverted Arch Climber! Kids will love exploring all the different ways to get to the top of the structure. No matter what your budget is, we have the perfect playground equipment for you.
At Kids World Play Systems, we believe that every child deserves to have the best possible playground experience. That's why we offer a wide range of commercial playground equipment that is specifically designed for kids of all ages. Whether you're looking for equipment for a small backyard play area or a large public park, we have everything you need to create a fun and safe environment for your little ones.
So come on down and check us out today!
Our Products
Our products are made entirely of superior materials, offering Natural Select, Redwood, Cedar, Poplar, and Poly Lumber. The result is a beautiful long lasting lumber built to last. Our lumber is milled to a smooth surface and edges are rounded to remove sharp corners. After that it is carefully sorted to almost eliminate unsightly knobs and irregular wood grain. Almost all of our items come assembled using only highest quality galvanized, stainless steel or plated hardware.
Satisfaction Guaranteed!
If for any reason you are dissatisfied with a purchase you may exchange it for equal or greater value item within 10 days. Large items may such as playsets, storage buildings and gazebos, due to their custom nature, will be subject to a 15% restocking fee.
Payment & Delivery Information
Payment must be made in full at time of sale for items picked up. For items to be delivered we require a 30% deposit with the balance due on delivery and installation. We accept cash, checks, and major credit cards or debit cards. Also 0% interest financing available with approved credit. Professional delivery and installation are available in all products. See price list for charges.
Visit Our Locations Today