72″ Pro Dunk® Diamond Includes Rust Armor
There ca be many great things that you obtain from Kids World. No matter what that thing may very well be you are going to enjoy it. You may very well like to know that we stand behind all of our products because we believe in them.
ProDunk Hoops In Ohio
The Pro Dunk® Diamond basketball system is perfect for families. An innovative dual canister, lift-assist mechanism neutralizes the weight of the backboard. This allows players of all ages to effortlessly adjust the height anywhere between 6' and 10' with the simple turn of a handle.
Features Include: Adjustable Down To 6' Don't leave anybody out! Let your young competitor get a head start at the 6' rim height. Also, this allows installation to be done from a standing position without ladders or special tools. Effortless Adjustment The Pro Dunk®'s powerful lift-assist mechanism neutralizes the weight of the backboard allowing a 6-year-old child to easily adjust the system.FAST Adjustment Raise the system from 6 to 10 feet in under 60 seconds. Safe, Enclosed Adjustment Mechanism A fully enclosed adjustment mechanism keeps children and other players safe while adjusting the height of the system.No Pins, No Rod, No Sweat Meet the simplest adjustment mechanism available. Turn the handle clockwise to go up, counter-clockwise to go down. When you reach the height you want, stop turning. It's that simple! Hoop Installation WarrantyAll hoop installations have a 1-year warranty. It is the homeowner's responsibility to call 811 before having us dig in the yard.
Padlock the System at Any HeightEasily See the Rim Height While Adjusting The height meter is mounted to the person adjusting the system can easily read and set the system at precise heights. Precisely Calibrate the Rim Height The rim height indicator is set after the concrete has settled and cured to ensure accurate rim height measurements. The Adjustment Handle Is Accessible To All Players The adjustment handle is mounted at a height player of all ages can reach.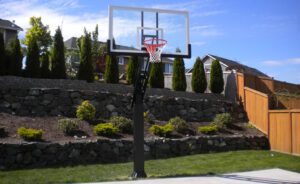 Basketball Hoop For Outdoor 
You are truly going to love the basketball hoop for outdoor selection of ProDunk Gold Basketball Hoops. You are going to be able to obtain these at our Kids World Play Systems locations in Ohio. These are going to be top-quality basketball hoop units. You will be able to make basketball hoop for outdoor the very centerpiece for your children and their happiness.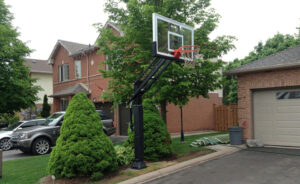 Best Basketball Hoops For Outdoors 
If you're looking for the best basketball hoops for outdoors. Our hoops are the best outdoor basketball hoops on the market and no other place can compete. Our basketball hoop for outdoor at Kids World Play Systems are truly the best around. These will provide the children with so much fun and countless hours sunk into becoming better at something they like.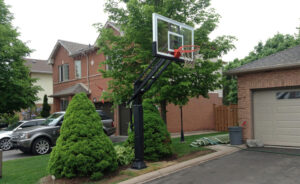 Our Products
Our products are made entirely of superior materials, offering Natural Select, Redwood, Cedar, Poplar, and Poly Lumber. The result is a beautiful long lasting lumber built to last. Our lumber is milled to a smooth surface and edges are rounded to remove sharp corners. After that it is carefully sorted to almost eliminate unsightly knobs and irregular wood grain. Almost all of our items come assembled using only highest quality galvanized, stainless steel or plated hardware.
Satisfaction Guaranteed!
If for any reason you are dissatisfied with a purchase you may exchange it for equal or greater value item within 10 days. Large items may such as playsets, storage buildings and gazebos, due to their custom nature, will be subject to a 15% restocking fee.
Payment & Delivery Information
Payment must be made in full at time of sale for items picked up. For items to be delivered we require a 30% deposit with the balance due on delivery and installation. We accept cash, checks, and major credit cards or debit cards. Also 0% interest financing available with approved credit. Professional delivery and installation are available in all products. See price list for charges.
Visit Our Locations Today