As they explore the winding paths of the Leaping Lion play set, kids will find more and more great activities to enjoy. Slides of all varieties can be found at each corner of the structure, including a Straight Slide, Double Wave Slide, Right Turn Slide, Straight Tube Slide, and Spiral Slide. The slides have all different heights and lengths, so that there are plenty of slides suitable for kids of any age. The structure has a jungle theme which is present from its Pal Toppers and Gable Roofs, all the way down to the Stump Window Panels at its base. As they traverse the Bones Tunnel and Tube Bridge with Window, they will feel as though they are exploring the heart of the wilderness. This playset can be customized with your choice of color palette as you complete your order.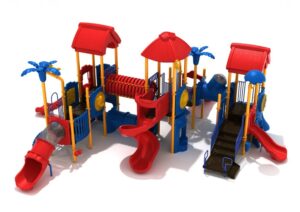 Tropical Park Playground
Looking for a tropical playground for your kids? Look no further than Kids World Play Systems! Our tropical park playgrounds are perfect for letting your little ones run wild in the sun. With tons of fun activities and attractions, they'll never want to leave! So come on over to Kids World Play Systems and let your kids have some fun in the sun!
Looking for a fun and exciting way to keep your kids entertained? Look no further than Kids World Play Systems! Our tropical park playgrounds are the perfect way to let your kids run wild and have some fun. With tons of different activities to choose from, they'll never be bored again. And with our friendly and knowledgeable staff on hand, you can be sure that they're in good hands. So why not give Kids World Play Systems a try today? You won't be disappointed!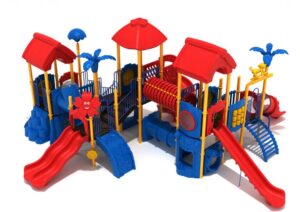 Tropical Playground
Kids World Play Systems is the perfect place for your little ones to have hours of fun. With our tropical playgrounds, they can explore a new world while getting some exercise. Our playgrounds are designed to be safe and fun for kids of all ages, so you can rest assured that they're in good hands.
Looking for a fun and exciting place to play? Look no further than Kids World Play Systems! Our tropical playgrounds are the perfect place for kids of all ages to have some fun. With plenty of activities to keep them entertained, your little ones will never want to leave! Come see us today and let your kids explore our world!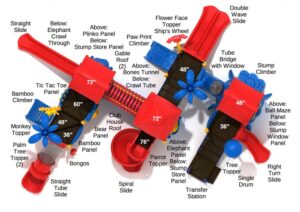 Commercial Playgrounds For Beaches
Looking for a commercial playground that can be used at the beach? Look no further than Kids World Play Systems! Our playgrounds are perfect for commercial use and are sure to provide hours of fun for children of all ages. Plus, our playgrounds are made with high-quality materials that will withstand the harsh outdoor environment. Contact us today to learn more about our commercial playgrounds for beaches!
Our Products
Our products are made entirely of superior materials, offering Natural Select, Redwood, Cedar, Poplar, and Poly Lumber. The result is a beautiful long lasting lumber built to last. Our lumber is milled to a smooth surface and edges are rounded to remove sharp corners. After that it is carefully sorted to almost eliminate unsightly knobs and irregular wood grain. Almost all of our items come assembled using only highest quality galvanized, stainless steel or plated hardware.
Satisfaction Guaranteed!
If for any reason you are dissatisfied with a purchase you may exchange it for equal or greater value item within 10 days. Large items may such as playsets, storage buildings and gazebos, due to their custom nature, will be subject to a 15% restocking fee.
Payment & Delivery Information
Payment must be made in full at time of sale for items picked up. For items to be delivered we require a 30% deposit with the balance due on delivery and installation. We accept cash, checks, and major credit cards or debit cards. Also 0% interest financing available with approved credit. Professional delivery and installation are available in all products. See price list for charges.
Visit Our Locations Today